Blacksmithy
From First Dawn - Wikipedia
Jump to navigation
Jump to search

Whether sweating over a fiery forge to create a masterpiece or hammering dents and polishing scratches from a favored piece of plate mail, the blacksmith of First Dawn is a skilled craftsman who often finds his or her services in high demand.

The skill of Blacksmithy involves: smelting metal items and ores; crafting arms and armaments; enhancing certain metal items; and repairing applicable items.


Getting Started
The very first step a potential blacksmith will need to take is by acquiring both a smith hammer and a pickaxe.
To harvest for iron ore simply double-click your pickaxe and target a rock.
Your mining skill will determine your success in producing workable iron ore each time you mine.
Once you have gathered enough iron ore you may then proceed to smelting the ore.
Smelting is the process of taking iron ore and melting it down into iron ingots that can then be used as raw material to craft.
Once you have required enough iron ingots, you may access your crafting by double-clicking your smith hammer. You must be standing no more then 2 tiles away from an anvil & forge. (shown below) These can be found in any town near blacksmith/weaponsmith shops, and scattered throughout the world.

You will be shown a crafting menu like the picture shown below.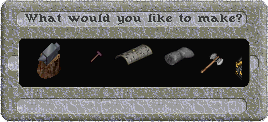 The initial menu will be your categories:

Repair - The ability to repair any item that also can be crafted from blacksmithy
Your blacksmithy skill determines which items you have unlocked. The more you gain, the more items appear in your crafting menu.

Weapons
Order by 'skill value'
Weapons/Tools
Armor
Misc